IMIJ
Home
Meetings
Coming Events
Past Events
Membership
Testing
Comparative Test Scores
Contact
Mensa
Mensa International
Worldwide Mensa Groups
FAQ
......................................
MIJ Past Events

Members and Guests Enjoying MIJ.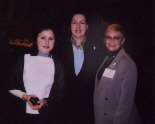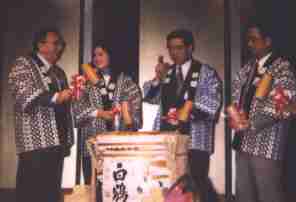 The first photo shows our current Prez in between former Assitant Director for Mensa International, Janine Tizzard and our own Proctor, Bambi. Janine, while on a business trip scouting for potential Annual Gathering spots around the world, visited Japan and spent a few days in Tokyo hosted by the Japan Convention Bureau. We were lucky enough to be able to join her while she scrutinized the beautiful Gajoen Hotel and it's sumptious banquet facilites!
But unfortunately, all the Japanese convention men who cheerfully thrust their cards into our hands begged off on keeping their promises to get tested, mostly out of worry of showing up their bosses...!
Janine performs the honor of cracking open the celebratory sake!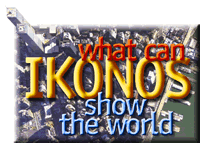 In November 1999, member Bob Clemons Phd., Vice President of Asia for Space Imaging Japan, introduced us to the ins and outs of satellite photography previously used by governments, and now by private concerns alike.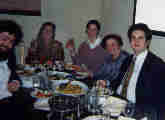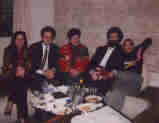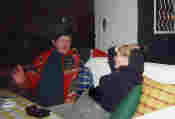 At our December 1999 Xmas Party members relax and enjoy in a secluded private "resort" party room deep in the heart of Roppongi. Linda should recieve the award )if we gave one for such) for drinking the most "double scotch rocks." No one else could even come close.