MIJ PAST EVENTS
***Please excuse our renovations while many of our photos are being re-scanned to improve their quality***


SPRING 2006

In addition to regular gatherings, these are a few of our special events.


March - Visit by German member Angela Lindlar,
author of "Neko Meguri Youroppa," on Cat Festivals around Europe.
Magazine article in JAPANESE



http://www.amazon.co.jp/exec/obidos/ASIN/4054020496/qid%3D1087282824/250-963/250-1998281-8433026#product-details
( Also - website in German: http://de.geocities.com/angela200714p/ )




Christmas 2005 - Annual Christmas-Bonenkai Party


October 2005 - Home Gathering



SPRING 2005




Cherry Blossom Viewing Picnic
On a beautiful April Spring Day about 100 members
and friends gathered to enjoy themselves under
the delicate pink blossoms. The enthusiastic
crowd stayed late after the park closed and
moved on to other venues in neaerby Shinjuku.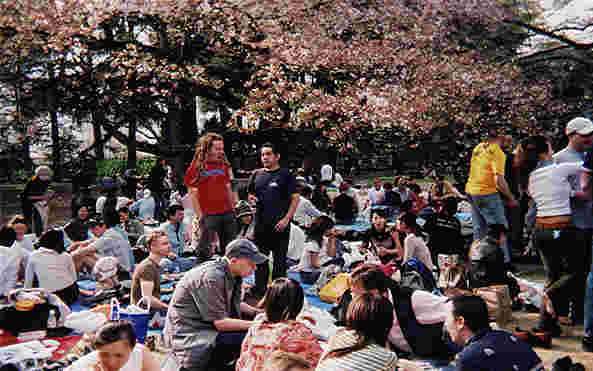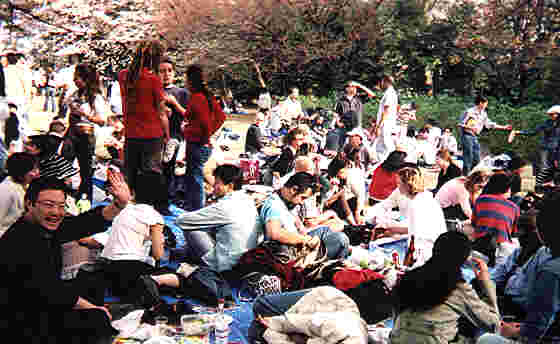 CHRISTMAS 2004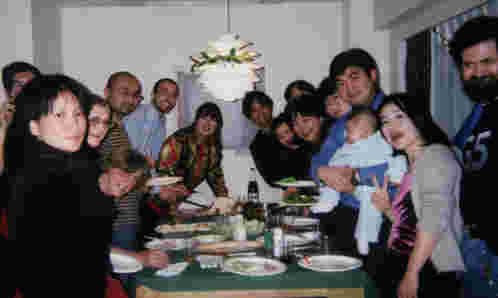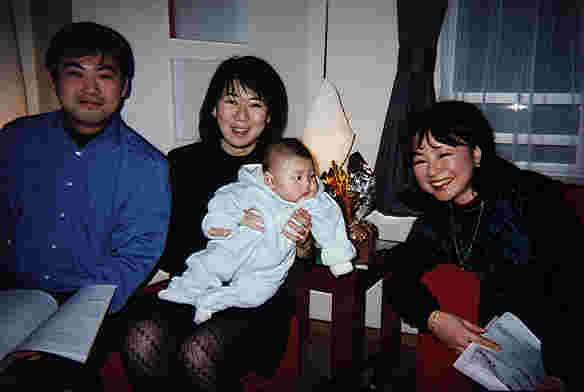 Summer Social
| | |
| --- | --- |
| | Special guest "EVENING" Manga Editor, Ryosuke Terada, joined MIJ members and guests at our dinner gathering and discovered the social aspects of Mensans in Japan. |
APRIL EQ




Members and Guests hear EQ information,
(One NY Mensan dropped in), and enjoy a Swedish
Smogasbord afterwards.

2002 EVENTS
2002 CHRISTMAS-BONNENKAI DINNER PARTY at Roy's Aoyama Bar and Grill!

OCTOBER 13th - Tokyo Bay Dinner Cruise
Enjoyable, beautiful weather!
JUNE - '60's Barbecue in Harajuku
MAY - Karaoke Nijikai
Ship Tour, Spring 2002.
| | |
| --- | --- |
| | Naval ship tour. |
Sumo Day, January 2002.



Shinenkai "meeting" was held at Kokugikan.
Members and guests watched the wrestlers push each other around...
it caused us to work up our own sweat which needed to be quenched by a trip to a nearby izakaya afterwards!
Xmas Champagne Brunch, December 2001.
| | |
| --- | --- |
| | Celebrating the holiday season in Tokyo MIJ members and guests enjoy Trader Vic's luxurious brunch buffet and a traditional gift exchange. |
Museum Tour, October 2001.



Tokyo art dealer and M, Kara Besher guided members through the controversial exhibition of the youngest Japanese artist to have a show at the Tokyo Metrolopolitan Museum of Art, Takashi Murakami.
Members and guests enjoy art talk before the tour over lunch.
Shinjuku-Gyoen Hanami, April 2001.
In the spring, we went to Shinjuku-Gyoen to enjoy the Cherry Blossoms.
Members, new members, and guests found a scenic spot for their blanket and spent the afternoon.

We later enjoyed a walk over to Chidori-ga-fuji, stopping for a bit of karaoke(!) on the way and then visited the Yasukuni Shrine briefly to see what was left of the their hanami.
(night photo by John P.)
Winter, 2001.
In the winter, a few of us took an "away" trip up to Lake Yamanaka near Mt. Fuji. This is the beautiful gorgeous view from the tea lounge in the lobby of our "XIV" Member's Resort Hotel.
Dinner lakeside was followed by a hot-tub onsen!

Relativity Presentation, November 2000.



In November 2000 we were entertained by scientist, Dr. Takemori of Tsukuba University in his presentation, "Everything You Always Wanted to Know about Relativity!" In the photos above members and guests pose for a shot in the lounge, and at dinner afterwards.
(no photos available of the pub crawl after that).


Unfortnately, we took no photos at our 2000 Xmas Party which was held in a private home.
1999 EVENTS



Xmas 1999.

At our December 1999 Xmas Party members relax and enjoy a secluded private "resort" party room deep in the heart of Roppongi.
If we would have had an award for "most scotch rocks consumed," it would have gone to Linda!
Conversation and small gift exchange over dessert in our "den."
Ikonos Launch!

In November 1999, member Bob Clemons Phd., Vice President of Asia for Space Imaging Japan, introduced us to the ins and outs of satellite photography previously used by governments, and now by private concerns.



A Visit from MI.

The first photo shows our current Prez in between former Assitant Dir.,for Mensa International, Janine Tizzard and our own Proctor, Bambi.
Janine, while on a business trip scouting for potential Annual Gathering spots around the world, visited Japan and spent a few days in Tokyo hosted by the Japan Convention Bureau. We were lucky enough to be able to join her while she scrutinized the beautiful Gajoen Hotel with it's sumptious banquet facilites!
But unfortunately, all of the Japanese convention men who cheerfully thrust their cards into our hands begged off on keeping their promises to take the test, mostly out of worry of showing up their bosses...!
Janine performs the honor of cracking open the celebratory sake!
Mensa does not hold any opinion, or have or express any political or religious views.(C)Copyright MIJ